Post sponsored by FOREO. Opinions are my own.
---
As I mentioned back in July of this year on this blog post, I have been working with Foreo to try and review some of their products.
I talked about the Foreo UFO mini 2 in this post, if you want to hear my thoughts about that product, and this time I am going to be reviewing the Foreo BEAR microcurrent facial device and also comparing it to the NuFace Mini.
So, let's get started by talking about what is the Foreo BEAR microcurrent facial device?
The Foreo BEAR microcurrent facial device is a device that works with microcurrent and pulsations that tighten and firm the skin, for a youthful and contoured complexion.
Microcurrent devices, like this one, send weak electrical signals into the body. These soft, gentle waves applied to the muscles in your face help tighten, tone and firm skin.
Now that we are all on the same page on what microcurrent is and how these types of devices work, I am going to share more about the Foreo BEAR microcurrent facial device and how to use it in your daily routine.
First of all, you need to download the Foreo app.
The app is available for all devices and it's the same one you use with your Foreo UFO mini 2, or any other Foreo devices that connect to an app.
Once you download it, you can easily connect the device to the app via bluetooth, and this is something you do only once, and then the device and app recognize each other seamlessly, and if you open the app on your phone the device automatically turns on (which is so smart and handy!)
Once you open the app you can choose one of the three treatments it offers.
These treatments that are preloaded onto the app target different areas of your face, and they are called «Total Facial Knockout» (the most complete one that works on all of your face), «Gentle V-shape Yoga» that works more on your jaw, «Contour Cardio», that targets your cheekbones, but you can also choose a «free mode» if you'd prefer that.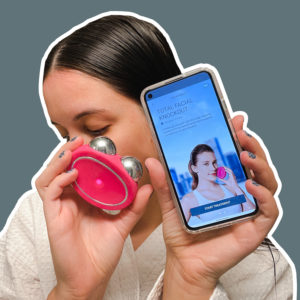 Once you've chosen the program you'd prefer, the app guides you, step by step.
This for me is so easy and practical. First of all, because the app prompts you to apply the serum to your face (super important steps, will talk more about this later on), giving you time for that, and then showing you exactly how to move the device around your face.
The fact that the app times the treatment, and shows you exactly how to glide the device through your face and how to move it to different areas (cheekbones, jaw, forehead and neck) makes everything really easy and straightforward.
There is literally no way you could mess this up haha, but to the contrary, it makes microcurrent accessible and super doable at home, which is exactly what the Foreo BEAR microcurrent facial device is all about.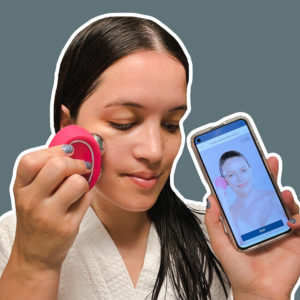 Moving the device through your face feels effortless and something you can easily do everyday and incorporate into your morning or night routine.
Applying the Foreo serum (or other conductives serums, gels or creams) to your face before the treatment is SUPER important. This product not only allows the device to move smoothly and swiftly through your skin, but a conductive serum is a layer that transfers microcurrent from the BEAR device to your skin.
Using this device on a regular basis can help tighten and firm your skin, and I feel like my jaw and cheekbones are more defined after using it for several weeks.
And something I also wanted to do, was compare this device to the NuFace Trinity, that I also own and that I have used several times in the past.
Overall I think the Foreo BEAR microcurrent facial device has a lot of advantages over the NuFace Trinity:
The Foreo BEAR is way smaller, like half the size, which is a lot better for storing, using, and also carrying around if you are traveling.
I think the design is also more modern and funny, if you prefer something like that. And the Foreo BEAR also comes in two other colors: a light pink and blue, if you'd prefer that.
Charging the Foreo BEAR is a lot simpler! You just plug in the device and that is it. For the NuFace Trinity you need the base as well, which makes the whole thing a lot bigger, as you can see in the pictures below.
Also, a great thing about the Foreo BEAR is that it has a special anti-shock technology, which means that even if you use a higher setting, you'll never receive an electricity shock.
And the Foreo BEAR has a special feature that the NuFace doesn't have: Tsonic pulsations.
Honestly, I think the only thing better about the NuFace Trinity, is the fact that its head can be removed, so you can change it for other heads with different shapes and functions, that can be bought separately.
Have you ever tried one of these devices?
If so, what do you think?
As I always say, they are not necessary or essential, I just recommend them if you already have a good routine set up and want to incorporate something extra into your routine.
---
Publicación patrocinada por FOREO. Las opiniones son mías.
Como mencioné en julio de este año en esta publicación de blog, he estado trabajando con Foreo para probar y revisar algunos de sus productos.
Hablé sobre el Foreo UFO mini 2 en esta publicación, si quieres escuchar mis pensamientos sobre ese producto, y esta vez voy a revisar el Foreo BEAR y también compararlo con el NuFace Mini.
Entonces, comencemos hablando sobre ¿qué es Foreo BEAR?
El Foreo BEAR es un dispositivo que trabaja con microcorrientes y pulsaciones que tensan y reafirman la piel, para una tez joven y contorneada.
Los dispositivos de microcorriente, como este, envían señales eléctricas débiles al cuerpo. Estas ondas suaves y suaves aplicadas a los músculos de la cara ayudan a tensar, tonificar y reafirmar la piel.
Ahora que todos estamos en la misma página sobre qué es la microcorriente y cómo funcionan este tipo de dispositivos, voy a compartir más sobre el Foreo BEAR y cómo usarlo en su rutina diaria.
En primer lugar, debe descargar la aplicación Foreo.
La aplicación está disponible para todos los dispositivos y es la misma que usa con su Foreo UFO mini 2 o cualquier otro dispositivo Foreo que se conecte a una aplicación.
Una vez que lo descargue, puede conectar fácilmente el dispositivo a la aplicación a través de bluetooth, y esto es algo que hace solo una vez, y luego el dispositivo y la aplicación se reconocen sin problemas, y si abre la aplicación en su teléfono, el dispositivo se enciende automáticamente on (¡que es tan inteligente y útil!)
Una vez que abra la aplicación, puede elegir uno de los tres tratamientos que ofrece.
Estos tratamientos que están precargados en la aplicación se dirigen a diferentes áreas de su rostro y se denominan «Eliminación facial total» (el más completo que funciona en todo su rostro), «Yoga suave en forma de V» que funciona más en su mandíbula, «Contour Cardio», que apunta a tus pómulos, pero también puedes elegir un «modo libre» si lo prefieres.
Una vez que haya elegido el programa que prefiere, la aplicación lo guía, paso a paso.
Esto para mí es tan fácil y práctico. En primer lugar, porque la aplicación te pide que te apliques el suero en la cara (pasos muy importantes, hablaremos más sobre esto más adelante), dándote tiempo para eso y luego mostrándote exactamente cómo mover el dispositivo alrededor de tu cara.
El hecho de que la aplicación cronometra el tratamiento y le muestre exactamente cómo deslizar el dispositivo por su rostro y cómo moverlo a diferentes áreas (pómulos, mandíbula, frente y cuello) hace que todo sea realmente fácil y directo.
Literalmente, no hay forma de que puedas estropear esto jaja, pero al contrario, hace que las microcorrientes sean accesibles y súper factibles en casa, que es exactamente de lo que se trata el Foreo BEAR.
Mover el dispositivo por la cara se siente sin esfuerzo y es algo que puede hacer fácilmente todos los días e incorporar a su rutina matutina o nocturna.
Aplicar el suero Foreo (u otros sueros, geles o cremas conductivos) en el rostro antes del tratamiento es SUPER importante. Este producto no solo permite que el dispositivo se mueva suave y rápidamente a través de su piel, sino que un suero conductor es una capa que transfiere microcorriente desde el dispositivo BEAR a su piel.
El uso regular de este dispositivo puede ayudar a tensar y reafirmar la piel, y siento que mi mandíbula y pómulos están más definidos después de usarlo durante varias semanas.
Y algo que también quería hacer era comparar este dispositivo con el NuFace Trinity, que también tengo y que he usado varias veces en el pasado.
En general, creo que Foreo BEAR tiene muchas ventajas sobre NuFace Trinity:
• El Foreo BEAR es mucho más pequeño, como la mitad del tamaño, lo cual es mucho mejor para guardarlo, usarlo y también para llevarlo si está de viaje.
• Creo que el diseño también es más moderno y divertido, si prefieres algo así. Y el Foreo BEAR también viene en otros dos colores: rosa claro y azul, si lo prefiere.
• ¡Cargar el Foreo BEAR es mucho más sencillo! Simplemente conecte el dispositivo y listo. Para NuFace Trinity, también necesita la base, lo que hace que todo sea mucho más grande, como puede ver en las imágenes a continuación.
• Además, una gran ventaja del Foreo BEAR es que tiene una tecnología antichoque especial, lo que significa que incluso si usa una configuración más alta, nunca recibirá una descarga eléctrica.
Honestamente, creo que lo único mejor de NuFace Trinity es el hecho de que su cabezal se puede quitar, por lo que puedes cambiarlo por otros cabezales con diferentes formas y funciones, que se pueden comprar por separado.
¿Alguna vez ha probado uno de estos dispositivos?
Si es así, ¿qué te parece?
como siempre digo, no son necesarios ni imprescindibles, solo los recomiendo si ya tienes una buena rutina configurada y quieres incorporar algo extra a tu rutina.